Main content starts here, tab to start navigating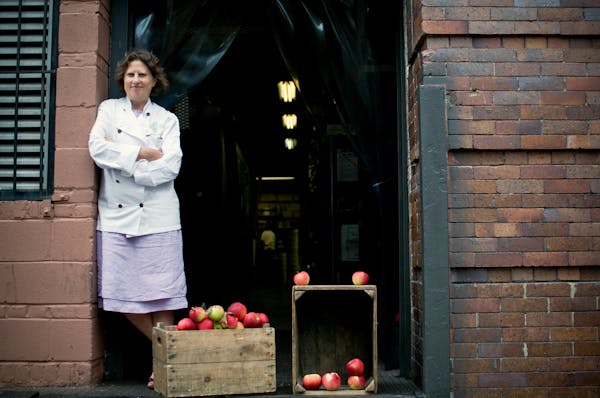 Mary R. Cleaver
President
Mary Cleaver, one of the country's foremost authorities on sustainable food and local sourcing, is the founder and owner of Cleaver Co, Table Green, and Table Green Café in New York City and Green Table Farm in Hartford, NY. Mary formerly founded Cleaver Co, a full- service event planning, and catering operation with a large roster of private, non-profit and corporate clients, in 1986, building on almost a decade of work in the New York City culinary world. Mary opened two food and beverage kiosks at The Battery in 2012, bringing a local focus to concession-style food and drink. She operated The Green Table, a farm-to-table restaurant, and later Cleaver Counter, a pop-up retail concept, in the Chelsea Market from 2013 to 2018.
As Mary's businesses have grown, so has her reputation for providing sumptuous, seasonally-driven food, attentive service, excellent event planning – and for helping create a sustainable, humane and delicious food system. Cleaver Co and The Green Table are widely recognized for utilizing local farms and purveyors in order to obtain the best-quality product, and for supporting small to mid-size farms and family farmers. Today, Mary works with dozens of purveyors, from Satur Farms on Long Island's East End to Flying Pigs Farm in upstate New York, to Consider Bardwell Farm in Vermont and Hermann J. Wiemer Vineyard in the Finger Lakes. On any given morning, you will find Mary at the Greenmarket, purchasing fruit, vegetables, flowers and much more from our local farmers. Taking the ultimate leap, Mary and her husband purchased their own farmland; 2018 is their fifth season raising heritage poultry and pigs and growing NOFA certified produce and grains at Green Table Farm in Washington County, NY.
In November 2011, Mary was named the first-ever "Snailblazer" by Slow Food NYC, designation granted to those leaders in the farm-to-table movement committed to a local, sustainable, and fair food system. Her current board affiliations include Hawthorne Valley Farm, Slow Food NYC Advisory Council, the Glynwood Advisory Council, Chef's Council for Emma's Torch, GreenWave Advisory Council, and the High Line Corridor Pneumatic WasteManagement Initiative. She was a founder of the Farm to Chef network. Mary is a sought-after speaker on the subject of local food and agriculture, as well as a mentor to restaurateurs and business owners seeking to source food locally and sustainably. In 2017 she was named to City & State Magazine's 100 Most Responsible list.
Before founding The Cleaver Co., she was a corporate chef at G.A.F. Corporation, the pastry chef at J.S. Vandam, a food stylist, and a cooking teacher at The New School. Mary co-authored The TriBeCa Cookbook, published by Ten Speed Press in 1995, and is a graduate of Bennington College. She lives in Brooklyn and gets up to the farm whenever she can.